Touch Point Farm's Summer Camp is five days of riding lessons and fun with horses for boys and girls ages 6 & up. Plus there's swimming, games, snacks, and crafts. Camp is for all levels of rider, new or experienced. Includes a riding lesson, barn lessons, arts & crafts, games, and swimming each day.
2023 Camp Dates
June 12 – 16
June 19 – 23 Filled!
July 3 – 7
July 10 – 14 Filled!
July 24 – 28
July 31 – Aug 4
Riding lessons will be in small groups, according to ability, for an hour each day. Beginners can expect to learn to control the horse at the walk, and begin to trot, post, and ride in 2-point position. More advanced riders will work on equitation and jumping.
While the morning hours will be devoted to horses, the afternoons will be fun- filled with games, free-swim in the pool, crafts, board games and sports. Barn activity is a time for the children to learn about horsemanship. Throughout the week we will learn about horse safety, the parts of the horse, colors, braiding the mane and tail, cleaning & caring for tack and about the upper levels of riding.
On Friday afternoon students will participate in a horse show for friends and family to attend.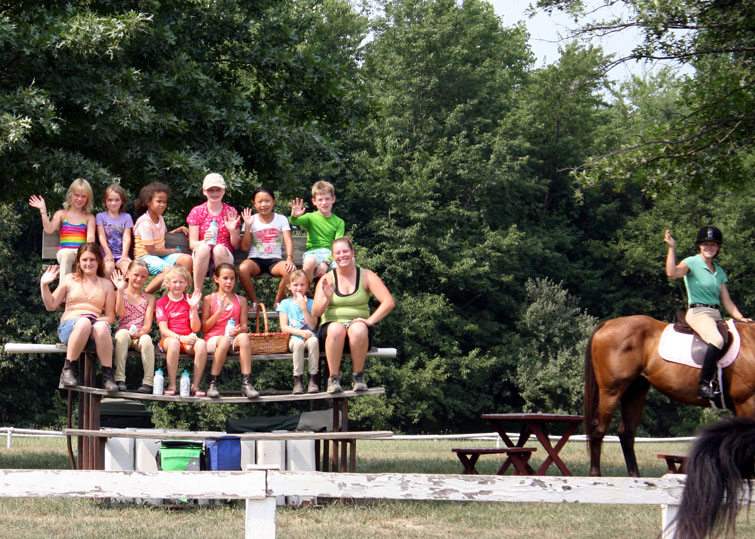 What the Kids Will Need for Camp
Long pants for riding. (Breeches or joggers, but jeans are acceptable. Chaps may be worn.)
Boots or hard, covered shoes with heels. NO sneakers for riding.
Safety helmets (Hard Hats) must be worn while riding. If you are signing up for more than one session, we suggest that you purchase an ASTM approved helmet, available at tack stores.
We ask that campers bring a large, healthy, brown bag lunch. The camp will provide morning and afternoon snacks. Be sure to list any food allergies on the application form.
A change of clothes
A bathing suit
A large beach towel
Don't forget sunscreen!
Our staff, in addition to Meredith Jones (farm manager and principle riding instructor), the week will also include two counselors, a barn manager and a certified life guard for 15 campers.

Campers may bring their own horse to camp on a space available basis. Register early! There is no charge for Field Board. Full Stall Board is $175 for the camp week. Horses may be brought to camp on Sunday evening and stay thru close of camp on Friday. Individual arrangements may be made for weekends, multiple weeks, etc.
Download
Application
$425 / week
Camp hours are 9 AM to 4 PM, Monday thru Friday.
Campers may arrive no earlier than 8:45 AM and must be picked up by 4:15 PM.
Extended Day hours will be available by pre-arrangement only.
Extended Day starts at 7 AM and ends at 6PM for a fee of $5 for each additional hour.